Digital notebooks are really a boon for those who are passionate about writing. These notebooks are ideal for those who want to organize and store everything digitally. It comes along with unlimited pages and gives you the same feelings of pen and paper. Being small and lightweight, it allows users to take them to wherever they want. These digital notepads come in different sizes, shapes, and mechanisms and it serves a fairly new invention to serve all possibilities of taking notes, drawing sketches, etc. If you are also looking for the best digital notepad that serves your purpose, then check out our recommendations in the post.
Read more: Best Affordable Laptops for Freelancers to Buy in 2020
Our Recommended List of Most-Sought Digital Notepads:
Here we have got you covered with some of the top picks. You can compare their features, price as well as other specifications; find out their individual pros and cons to choosing the best one for you. So, take a look at this section to get a brief overview of different brands of digital notepads.
1. Boogie Board, 8.5 Inch LCD Writing Tablet
This Boogie Board tablet is a remarkable choice for those who cannot go through ideas without noting them on paper. With 50,000 erases, it makes scribbling down something and making notes easier for you. The LCD screen of this tablet is non-toxic and shatterproof; it comes with a magnetized back.
Pros:
You can easily jot down with the help of a stylus or any other instrument
Always ready to use and it does not come with a Power button
Pretty thin to carry anywhere by storing in a purse
Cons:
This memo pad does not save any images.
2. ACECAD PenPaper 5*8 Digital Notepad
If you are looking for the best smart notebook at an affordable range, then ACECAD PenPaper 5*8 digital notepad is an ideal choice for you. This rechargeable and easily accessible notepad is designed to work in conjunction with the iPad. It is easily portable and affordable.
Pros:
Smaller in size
Export files to iPad
Cons:
The battery life is short
Read more: Laptop Buying Guide: What to Look Before Buying a Laptop?
3. Sony DPT-RP 1/B Digital Paper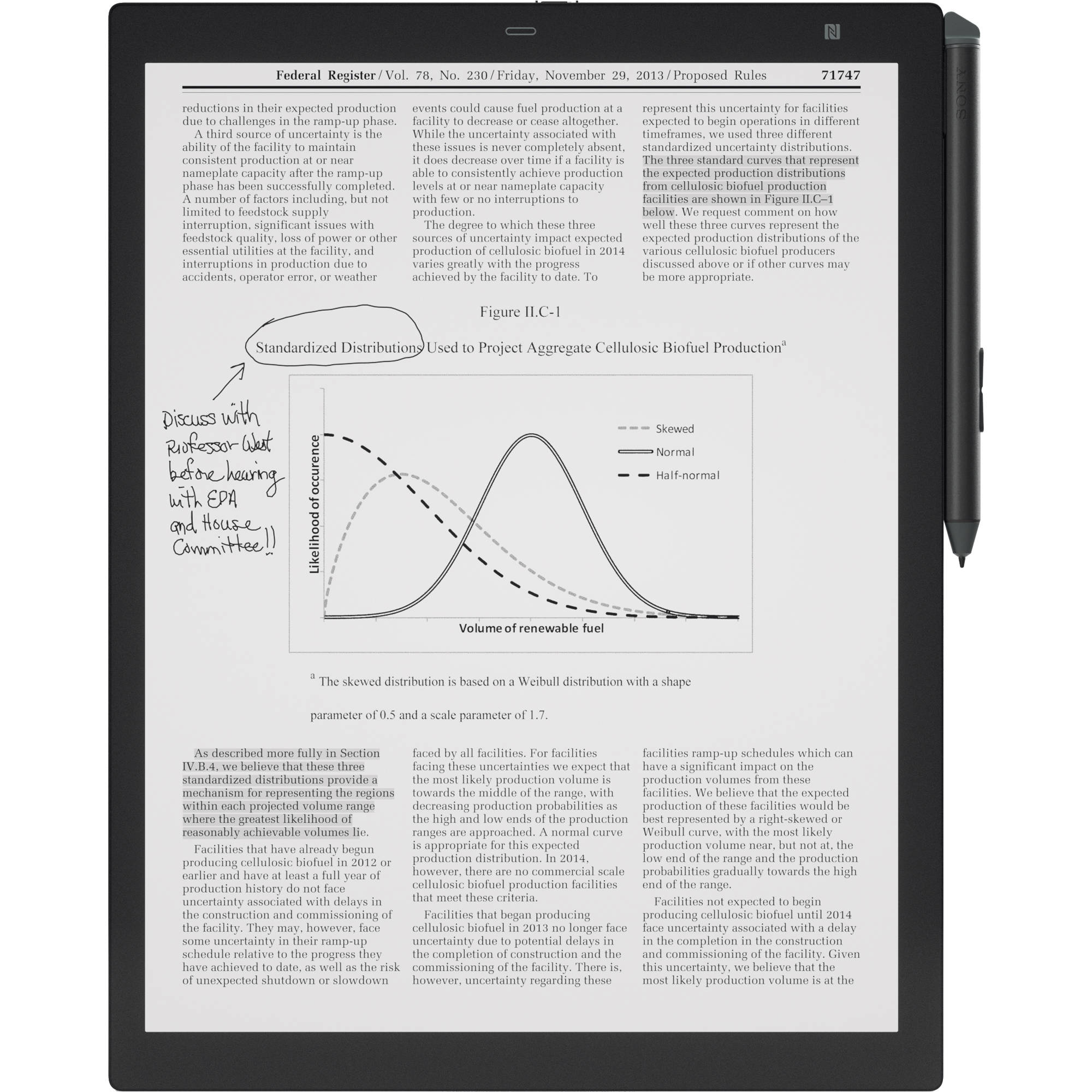 Sony DPT-RP is one of the best digital notepad for those who actually want to save and retrieve whatever they are writing. With its 13.3-inch no-glare and high-contrast touchscreen, this notepad can even be used in bright sunlight. With 16GB internal memory, it allows you to store and share what you write.
Pros
Slim design with a letter-size screen
Provides data protection through data and password encryption
Offers both USB and wireless connectivity
Cons
Quite expensive, but its advanced features make it worth it.
4. XP-Pen Star05 Wireless 2.4 Graphics Digital Tablet
This slim tablet helps in creating accurate digital pictures, which makes it a perfect choice for artists. They can easily connect it to their PCs or Mac device either wirelessly via FHSS or ISM 2.4G or by using a USB cable. Being compatible with different drawing software like Studio Paint, Paint Tool Sai, etc., this notepad is ideally for those who wish to enjoy their drawing talent.
Pros
Comes with six touch-sensitive keys
Use a passive stylus with 2048 pressure levels
The lithium-ion battery recharges fast
Cons
For first-time users, the software can be a bit complex.
Read more: Hard Drive Data Recovery: Possible or Not?
5. Keweis 10-inch Digital Notepad with Pen
This ultra-thin, lightweight, portable LCD writing pad comes handy for taking notes, sketching designs, writing reminder messages, etc. This multipurpose electronic notepad is a perfect replacement for memo pads, dry erase boards and sticky notes, and so on. With over 100,000 writing cycles, this notepad is incredibly useful for those whose imaginations run wild.
Pros:
Its pressure-sensitive LCD screen is quite eye-friendly with no glare and no radiation
Excellent communication tool for the deaf-mute
Comes with a lock key system to store your important messages
Cons:
The screen might appear dim due to its anti-glare feature.
6. NEWYES 4.4 Inch Pocket Pad LCD Writing Tablet
Developed by one of the best digital notepad brands NEWYES, this is perhaps the smallest of digital notepads and lightweight also. Owing to the design of this tablet, it provides you with a paper-like feeling and can be repeatedly used for 100,000 times.
Pros:
Made up of high-quality durable plastic
Available in different colors
Used for many things including a communication tool
Cons:
If you have to make a lot of notes, then this surface is not perfect for you.
7. Wacom Bamboo Slate Smartpad Digital Notebook
This notepad is designed by keeping the illustrator and writer in mind. This minimalist notebook is available in two sizes- large and small. If you are looking for a notebook for your conference, then this would be the ideal choice for you.
Pros:
Extensive compatibility that supports multiple file formats
Ergonomic design
Comes in various style and size
Cons:
No automatic wake-up feature
These devices perform with excellence and open up the possibilities of replacing paper. You can choose any of them that suit your purpose and requirements.